How to Personalise your House Portrait
Make your portrait as personal as possible
I often get asked if I can include the occasional extra touch to my house portraits to make them that little bit more personal. I am always more than happy to try and make these work in the paintings as I think it makes it a lot more special, whether it's for yourself or as a gift. I love painting house portraits as to me, our homes represent more than just the building where we live, they represent our families and the memories we've made there. They also can encapsulate a period of our lives in a very visual way, which is why it can be nice to have a portrait of an old house, or the house where you grew up as it reminds you of that part of your life. I think its so important to have a way to remember the best parts of our past.
So often, an important part of these homes are the context within which you lived there, maybe it was the first house you bought, or where you grew up, and one way to encapsulate this is with the addition of text to your portrait. This can also look really effective. Text can also be used to make the painting more of a personal gift, such as in the example below wherein I painted all three houses this family had lived in as a 60th Birthday present for their Dad. Family makes the home, and it was so wonderful to be able to acknowledge that in the painting. I am more than happy to include any kind of text in your personalised house portrait, and work with you to make sure its the most effective it can be in the context of the painting as a whole. Just include the details of what text you would like in your email with the reference photos.
Another wonderful way to personalise your house portrait is to include your pets. I absolutely love including pets in house portraits. You can choose to have them peeking out of the windows, or sat outside the front door. I absolutely love animals and appreciate how important they are in the famiy environment. Below are some examples of portraits in which ive included some pets in the paintings, from cats and dogs and even a rabbit!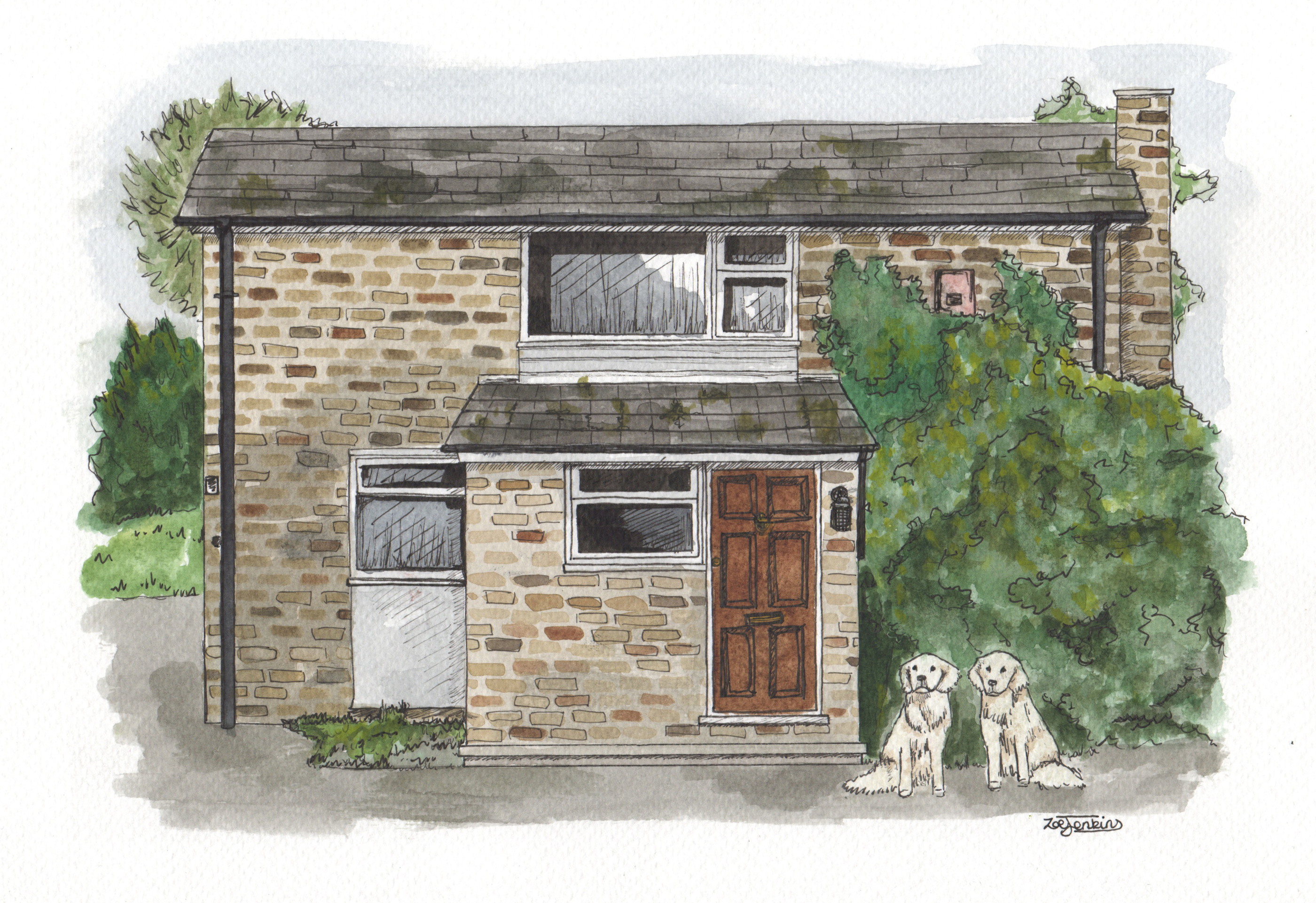 I hope this post has been useful and please make sure to let me know if there are any extra touches you would like me to include in your house portrait.